In the world of mortals, the great comes first and businessman Jamil Ssempijja is one of them. One might not see, feel his greatness until you visit Maple Leaf Hotel in Masaka City.
It's not easy for a hotel to live up to the beauty of International standard but Jamil Ssempijja has pulled it up.
The hotel is surrounded by terraced gardens fragrant with roses, trees, and herbs.
The weather is lovely; superb and very difficult to describe. Here the owner of Maple leaf hotel Ssempijja smiles on for this interview.
He has lived in crazy times and circumstances to ensure that today a Shs6 billion project in Maple leaf hotel can be reckoned with in Masaka City.
The brightest spot of all, is that at least he can compose his thoughts well and feelings to share his success story about the state of the art hotel.
Ssempijja was born at Ninzi Village in Kasaali Sub-county, Kyotera District.
He attended Kiyimba Primary School, Kirembwe Primary School, Kakoma Secondary School and Kampala High School before going to Nkumba University where he earned a Higher Diploma in Business Administration.
At his youthful age, Ssempiija can conversely tell or know quite well what he wants and how his hotel could look like.
No hard feelings. Ssempijja is well acquainted with what he wants and who is right and wrong among his employees at the hotel.
"Most of the facilities, I used to set up the hotel were fetched from Dubai and the furniture used was locally made," shares a soft-spoken Ssempijja.
It is so soothing and peaceful to feel the ambient music at Hotel Maple leaf that sits on two and half acres today.
Its tranquility and good colored green light have all together made Maple Leaf a darling hotel in Masaka City.
"Quite honestly, I can't imagine that even now, the hotel has started attracting foreigners like Indians."
The plan of the structure alone was replicated from Malaysia following his Twin Towers visit also the third tallest building in the world.
The young and old, rich and poor today have started to support his ambitions to see Maple Leaf turning into a tourist's facility in the country.
Ssempijja says he is particular and selective about the way he runs the hotel.
He has his own opinions, own ideas and principles. He says the standard of the hotel curtains and bed sheets at the hotel have all received thunderous claps from clients since all were fetched from Dubai.
"To be frank, Mr Tom Masiko a hotel consultant helped me a lot to monitor and start the business of hotel which today has worked miracles for me," shared a delighted Ssempijja.
As for clarity, earlier in November two years ago, Ssempiija officially opened up Maple leaf hotel.
Ssempijja is one of the few lucky chaps in the business fraternity who have made money within his hometown.
"It has always been a great move to see us reaching this far," Mrs Jacent Namukasa, the receptionist whispered.
It was in 2003, when Ssempijja became the distributor of Pepsi products in Masaka and this helped him raise money to support his ambitions to construct the hotel.
With the school idea still lingering in his notices, Ssempijja later resolved to let go of constructing the school after realizing the pressure that may occur and built Maple Leaf Hotel which today settles with 27 rooms.
Its three conference rooms accommodate; 250, 150 and 40 people respectively depending on the sitting arrangements. They normally charge Shs800, 000, Shs400, 000 and Shs300, 000 respectively per day.
"Love for the people of Masaka has also been crucial to my success story. Actually, proper planning too could be added as an additive to my progress in business," he shares.
Maple leaf today comprises of two halls; Nambaale and Ssuubi hall where guests and hotel goers normally convene to share business ideas.
The Nambaale hall alone was named after his late Mother and Ssuubi was branded after his maiden wife.
"The halls are not so big but convenient enough to attract all people of different kinds," he discloses.
Maple leaf's fairytale success story has been running on a gradual process and those that have tested the delicacy of hotel services keeps him going.
The word Maple leaf hotel according to Ssempijja was derived from a hidden meaning- patience, connection and unity.
He says since he was determined, he has been able to realize that good things come with courage, dedication and perseverance.
"Mostly baby showers, birthday parties and workshops are most preferred at his hotel facility," he says.
Ritah Nabukenya, the waitress says, working at the hotel has changed his life entirely.
"Maple Leaf hotel is home to me. The customers we normally receive here are kind and willing to support us," she adds.
It has flexible lighter and ambient automatic and in built music for the targeted customers.
"We've maintained the hygiene properly and we hope to do whatever it takes to uplift the standards of living of this facility," adds Nabukenya.
Maple leaf hotel boost with international menu and well stocked with both local and foreign food.
According to Jovial Muhindo, the chef, the services are good and they have maintained the speed in production.
"Ironically, the local foods like rice and Matooke are the most preferred by the foreigners." Muhindo added.
"We do on orders. It s hard to predict what the clients want but Matooke is the most preferred food. Pumpkins and Vegetables could be added on," shared Muhindo.
On contrary, Muhindo says that foreigners from countries like Kenya prefer local food like Irish potatoes and Rice.
Ssempijja didn't use foreigners to construct the hotel. Solely, he used Engineer Ssejjemba Charles from Masaka City whom he used to construct the whole facility.
"Painters, Shafik Kabugo and Robert Kasibante is the man behind the carpentry work and all artwork and furniture all were locally made here," he added.
Ssempijja says he used to be moan that he couldn't draw all but now he has shaken-off all his fears and everything at the hotel is in good stead.
It is Ssempijja's dream to turn Maple Leaf into a five-star hotel so that he is internationally recognized.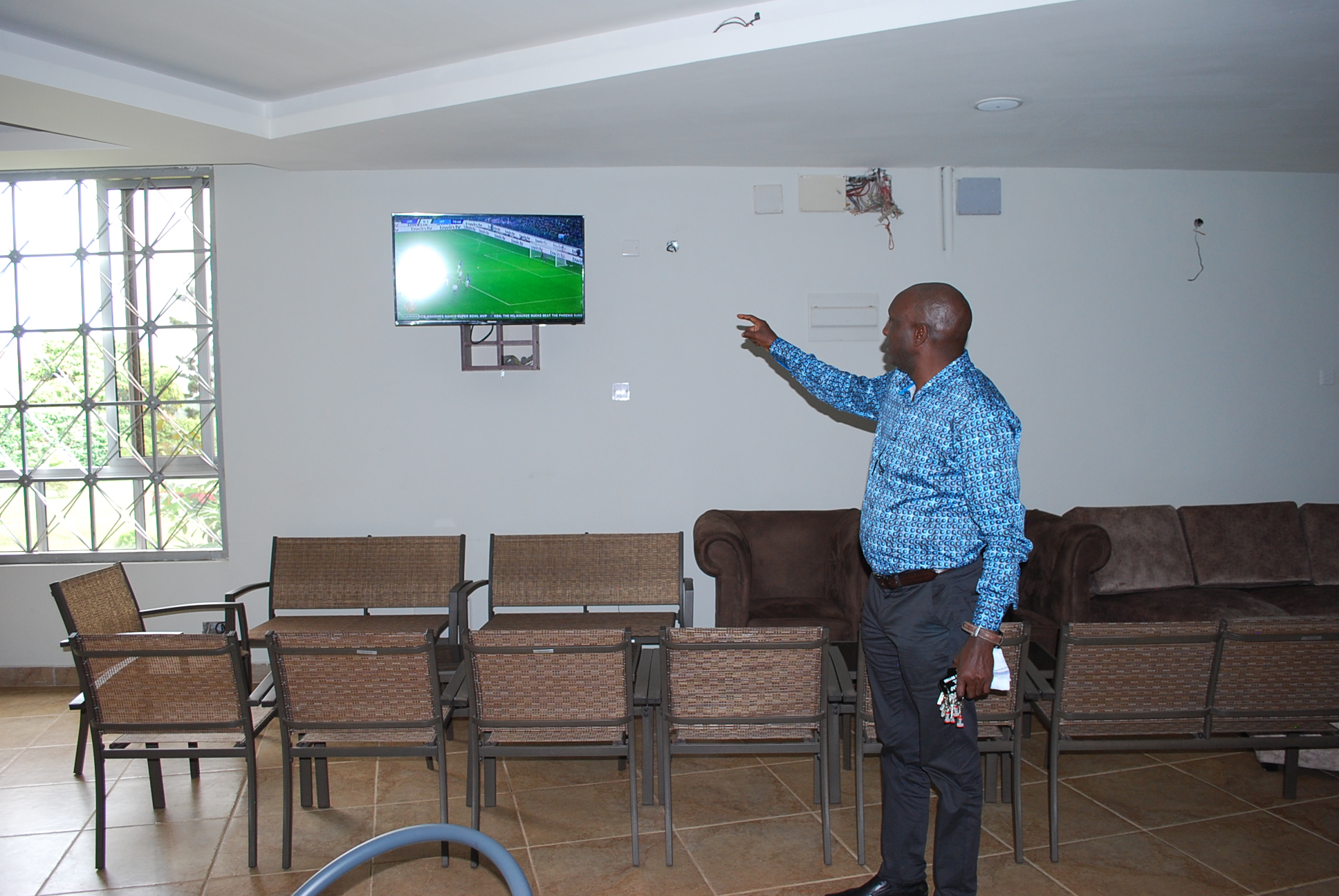 "I hope to introduce a real grand dance or something like top team band now that we've become a bigger prospect," Ssempijja shared.
Ssempijja is a greater believer in fate. He never brings people together especially in business without a reason.
He says frustrations, small pleasures, fears and hopes and people's expectations and failures are all part of his experiences in running the hotel facility.
Being social, hardworking and holding no coral reefs around him have conversely helped Ssempijja to construct Maple Leaf Hotel.
The bears; Tequila is the most preferred liquor at the table of Robert Sibirwa the bartender.
Do you have a story in your community or an opinion to share with us: Email us at editorial@watchdoguganda.com