The stories of hardworking Ugandans abroad losing their hard earned money to dishonest friends and relatives they have entrusted with buying them property are a common place.
And Nancy Kasana is not exception. Before she found an agency to take her to Dubai where she has been a cleaner for the last two years, she dreamt of owning her home where she would raise her two boys. Nancy had been a single mother since her boyfriend abandoned them. She decided to take her boys to her mother to look after them as she tried to make ends meet.
Getting a cleaning job in Dubai would have freed her, give herself and boys a fresh start if she did not trust her friend with finding her a plot of land and build her a two-bedroom house.
Nancy narrates that she faithfully sent her friend money and actually has proof that money was received. On her friend's part, she sent her fake pictures and videos in exchange for money she sent her. Nancy could not believe her eyes when she returned to Kampala and her friend told her stories after stories. The two are now in court – Nancy hopes one day she will get justice.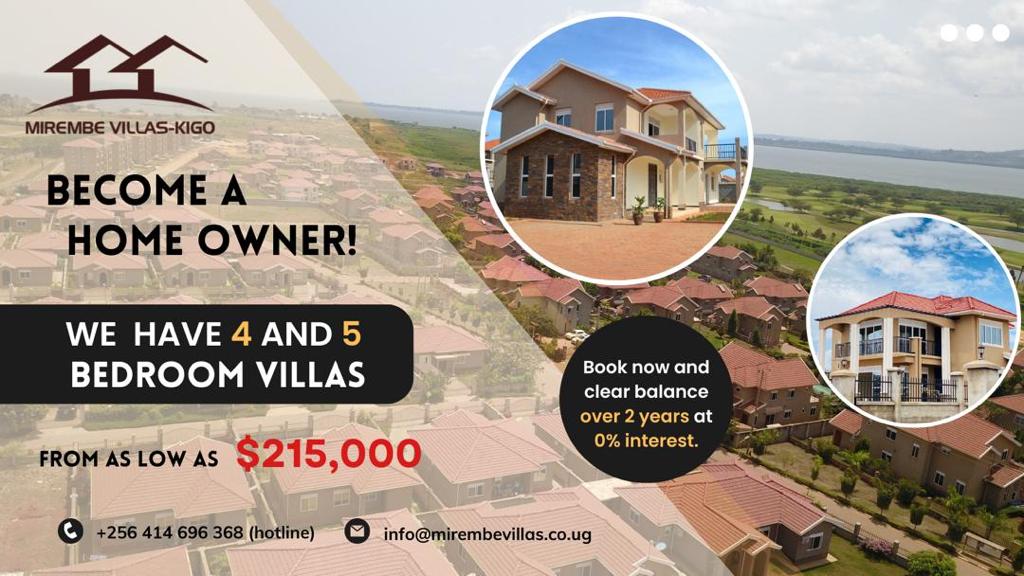 The biggest fear of anyone on kyeyo is being betrayed by someone they trusted with their hard earned money to do for them something home.
Many people in the diaspora hope to return some day to a beautiful home worth their investment or something valuable. However, many times, the people to trust with their money either cheat them or give them a low deal. Some are simply dishonest while others have no experience or expertise in what they are asked to do.
Most Ugandans however believe owning a home or real estate property is the way to keep their money in the value chain. They are not wrong.
The most important question is therefore, which property, and who can deliver it?
This frustrations diaspora citizens endure in construction and real estate industry can be no more if they work with reputable companies who sell properties in organized communities such as Kabaka's Mirembe Estate Sentema.
Booking a house in Kabaka's Mirembe Estate Sentema can help you surprise your friends and family, instead of hating on them, after they break your heart.
Days of calling that relative wondering if they can search for you a plot and build a house on your behalf only to return to wetland or no home, are no more.
We should all agree that supervising a construction project is a lot of work. Let alone, many of us having no experience in doing so. We end up losing valuable time, efforts and money trying to do what we don't real know.
Working with companies such as Gouji Group, Buganda Land Board for example made a great decision. The company has resources and expertise to build any home. But this is not the main point – the company have now mastered building quality low cost housing in organized environments which give anyone who is living abroad a sense of security and value for property unlike many other developers.
By reaching out at Mirembe Villas on; Hotline: +256 414 673 537, Email:info@mirembeestate.co.ug, Office: Garden City Shopping & Leisure Centre, Shop LG5, Plot LR 64/86 Yusuf Lule Road.
Check out the website www.mirembeestate.co.ug for more information.
You could book your own house which you can pay via installment over a period of two years and you never worry of its status until you return home. You could book your own house which you can pay via installment over a period of two years. You could get updates on its progress through the agent until the house is finalized.
Do you have a story in your community or an opinion to share with us: Email us at editorial@watchdoguganda.com