By Patrick Edward Musisi
Five orphans in Mukono have today received a miracle of a house. Compared to where they resided, this new home is like a hotel to them.
Golden Heart Foundation, a non government organization based in USA, through its Uganda executive director Ms. Nakavubu Margaret made the donation to the needy orphans this week. She said they spent at least Sh70m building the home of the five orphans.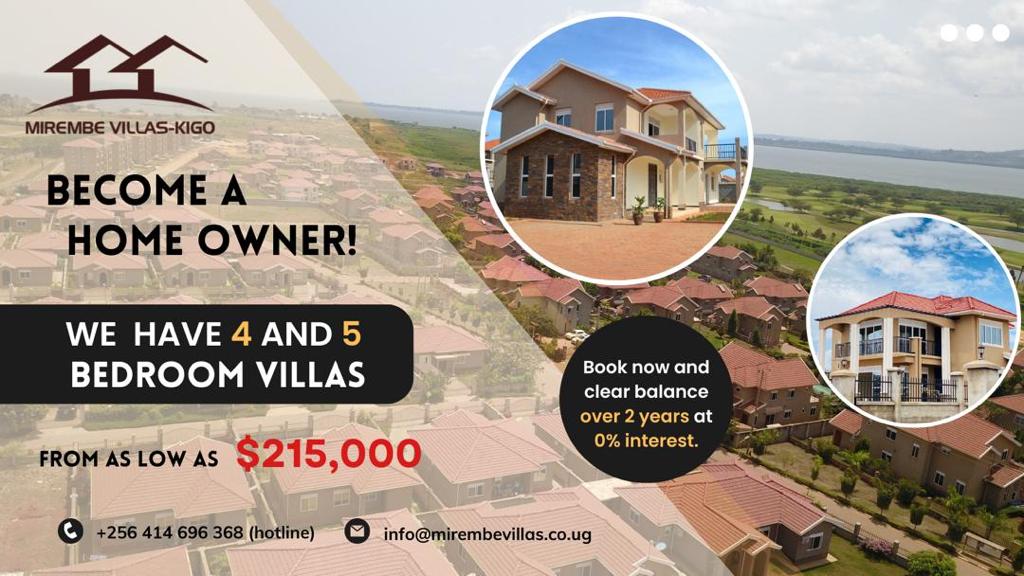 [media-credit name="Patrick Edward Musisi" align="alignnone" width="1040″]
[/media-credit] Ms Nakavubu poses for a photograph with the orphans
[media-credit name="Patrick Edward Musisi" align="alignnone" width="1040″]
[/media-credit]
The three bedroom home with a tiled floor has a kitchen, two bathrooms as well as a spacious dining room.
Ms Nakavubu says the gesture is a way of social inclusion efforts for the disadvantaged and suffering children.
The five orphans who are already living in their new home, include; David Mukalazi 10, Godfrey Nsubuga 10, Ruth Nalwanga 5, Esther Nambogo 11, Pauline Kisakye 6  all residents of Kazo village, Ssayi parish in Ntenjeru sub county. They have been living a miserable life following the death of their parents and the dilapidated house they were sharing with their aging grandmother was almost collapsing on them. This was indeed a miracle of a new home which comes with a house help, paid by Golden Heart Foundation.
These children have been scavenging to get what to eat and sometimes their neighbors have been checking on them by providing some basic needs such as school fees however, time came when they could not do it anymore and they had to drop out of school. However, the new home comes with land to grow their food, and the NGO has promised to build a school on part of the land in the near future.
"They have become my children. I will make sure they go to good schools and they will not lack any basic need," said Nakavubu while transporting them to their new residence located in Lubugumu village, Nakisunga subcounty, Mukono district.
"I want the world to witness these children become responsible citizens", Ms Nakavubu added.
Golden heart foundation is funded by Americans who run various projects of this kind in Uganda.
Nakavubu started out two years ago with  projects helping the needy, renovating schools in poor conditions, providing sanitary pads to girls and scholarships, as well as school materials with an aim of improving on the livelihood of the poor people especially in Mukono.
She called upon the government to support the needy because the future of this nation was in the hands of these children.
The chairperson of Kazo village, Mrs. Margret Bintubyangu, where these children were residing extended her gratitude to Golden Heart Foundation for helping the people in need. She however raised concern over the rising poverty in different communities.
Do you have a story in your community or an opinion to share with us: Email us at editorial@watchdoguganda.com