By Felix Oketcho
The Embassy of the United Arab Emirates has approved the request by the Ugandan government to open up a consulate in Dubai.
From a development perspective this is pretty good news to hear. The two brokers deserve thunderous applaud because Uganda is destined to reap more from the diplomatic relations.
We anticipate more trade between two countries to blossom. At the moment, UAE is Uganda's largest trading partner in the Middle East and Gulf region.In 2020, UAE exported $518M to Uganda with the main products being Refined Petroleum ($317M), Cars ($21.3M), and Cement ($19.6M). During the last 25 years, the exports of United Arab Emirates to Uganda have increased at an annualized rate of 9.01%, from $59.9M in 1995 to $518M in 2020.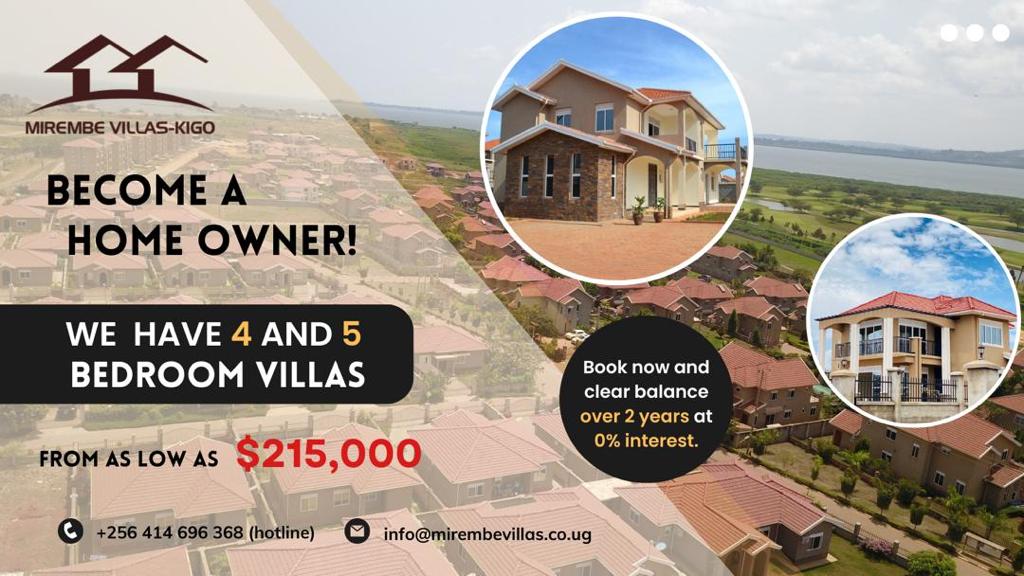 On the other hand, Uganda exported $3.5B to UAE with the main products being Gold ($3.47B), Refined Petroleum ($10.1M), and Fish Fillets ($6.02M). During the last 25 years the exports of Uganda to UAE have increased at an annualized rate of 42.7%, from $479k in 1995 to $3.5B in 2020.
Still in 2020, UAE ranked 51 in the Economic Complexity Index (ECI 0.16), and 24 in total exports ($216B). That same year, Uganda ranked 99 in the Economic Complexity Index (ECI -0.97), and 108 in total exports ($5.87B).
Uganda and the UAE established diplomatic relations in 2009, hence trade between the two countries has grown significantly. Exports from Uganda to the UAE increased from 300 million US Dollars in 2009 to 1.85 billion US Dollars in 2020. During the same period, investment figures rose from 150 million US Dollars to over 800 million US Dollars while remittances from the UAE currently stand at 200 million US Dollars.
Uganda has also exported skilled workers, minerals, precious metals, tea, coffee, cocoa, agricultural produce and meat products the Gulf although what has been visible has been the migrant workers seeking odd jobs in United Arab Emirates in form of house maids and security guards due to unemployment in Uganda.
UAE has invested close to 5 billion US Dollars in Uganda, of which 2 billion US Dollars was in the form of foreign direct investment, while the remaining is portfolio investment. The UAE investments in Uganda are mainly in five sectors, including petroleum, energy, infrastructure construction, commercial agriculture and services.
What needs to be addressed
The numerous killings of more than 2.5 million domestic workers from Africa and Asia to extract body organs to sale should be addressed squarely if the diplomatic relations is to blossom.
The tales are so gory that one would think we are back to the slave trade era when slaves suffered similar fates in the Whites-owned cotton, rice and sugarcane plantations in the Americas and the Caribbean.
Majority of our graduate youth and illiterates still throng the offices of the Ministry of Gender, Labour and Social Development and offices of the many labour recruitment agencies operating under the umbrella organisation, the Uganda Association of External Recruitment Agencies (UAERA), for jobs abroad painting a picture that this will continue as alternative employment.
In Uganda of the 700,000 graduates released in the job market only 90,000 get absorbed in government and private sector leaving vast majority to wonder on streets and external jobs in the Gulf.
The allure of better pay, even if they quit their professions in Uganda and took up manual jobs out there, is very much at the centre of that desire for example domestic workers in Uganda who earn Shs140,000 a month are considered extremely lucky, yet according to information from UAERA, their counterparts in Jordan earn between $225 and $300 (Shs1.2m), while those in Saudi Arabia earn between $225 and $500 (Shs1.9m) per month.
They are also better paid than most primary and post-primary teachers, security officers and sections of the medical personnel employed by the Public Service.
The most recent salary structure from the Ministry of Public Service puts the salary of an enrolled nurse or midwife, for example, at Shs613,180; that of the highest paid Primary School teacher at Shs919,222 and that of a senior administrative officer at Shs1,131,209, which are far below that a domestic worker in Saudi Arabia earns.
Whereas security guards in Uganda earn as little as Shs150,000, their counterparts working in Afghanistan or Iraq earn between $500 (Shs1,9m) and $1000 (Shs3.7m). This means some of the guards earn more than a doctor in Uganda, who earns Shs3 million per month.
The numbers
take it or leave it the Gulf States has become desired destination for unemployed Ugandans. According to ministry of gender there over 100,000 Ugandans actively engaged in odd jobs in the Gulf states.
In a nutshell I salute the two states for brokering the diplomatic relations and wish the two sisters states to maintain cordial relationship to better our trade, commerce and jobs.
We already have peace, stability initiated by ruling government at the fore front to facilitate external relations and diplomacy.
What is needed is to strengthen our relations to harmonize work relations in UAE so that our sisters and brothers facing mistreatment out there are compensated and work relations improved
The ugly stories of our citizens bruised, beaten and killed by strangulation in Oman should cease forthwith.
Do you have a story in your community or an opinion to share with us: Email us at editorial@watchdoguganda.com