It is the green ironsheets, green grass and the green numerous tree species that catches the eye in the yards of Kalangala's Pearl Gardens Resort Beach.
As the MV kalangala ferry jets in at 5:30pm on the shores of Lake Victoria; the passengers are seen from a distance with smiling faces as they move closer towards lutoboka landing site near the Pearl gardens beach resort.
Today; Mulindwa Birimaaso is a retired but not tired politician and a civil servant aiming at conserving the environment and natural resources within Pearl Gardens Beach Resort that sits on thirty five acres of land.
The community playground and the combination of bird watching all were key features for the setting up Kalangala Pearl gardens beach.
"The identity alone Pearl means that the facility is real, reliable and relevant to serve beyond service," he adds.
Mr Bririmaaso saw a destination for reserving environmental Natural resources and downstairs to the second biggest highland in Lake Victoria which had a social cultural impact to suffix both the local and foreign folks.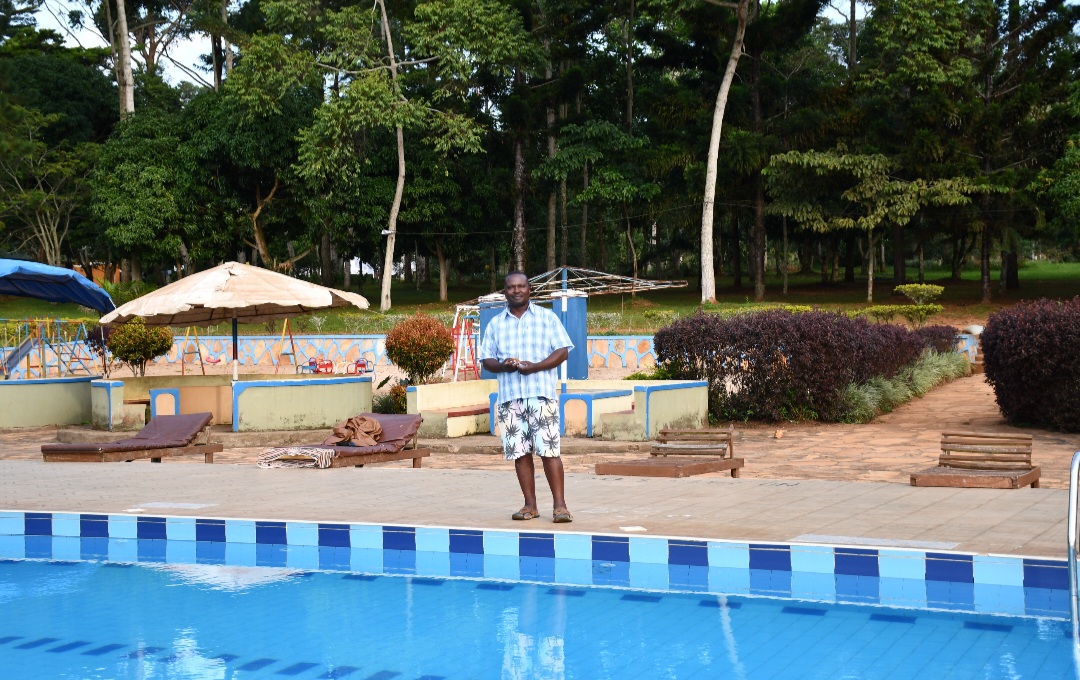 It is near lutoboka natural forest reserve and the facility has blended well with the community and it reserves local and foreign tree species such as Mahogany, African prunus to mention but a few.
Growing up in Lwengo District; Birimaaso studied at Kakoma Secondary School, Masaka Secondary School and later pursued a Degree in Commerce in Makerere University in 1996.
In 1997, he joined the Army and later chose political education instead in Revolute Higher Military College in Ukraine.
He remains among the persons that organized Mukyakamukyaka and he mobilized the youth, women and Matia Kasaija deputized him.
He also went for the retreat for Bukoto West as a delegate for Constituency Assembly in 1994 and two years later became the maiden Member of Parliament for Bukoto West and served two terms until 2005.
Since 2005; Birimaaso has been the Managing Director for Pearl gardens beach which has grown from nuts to grace.
He is married with children and blessed with grand children too.
Birimaaso before served as the senior presidential advisor t Uganda's revolutionary president Museveni and retiring from active politics gave him ample time to change the face of the facility.
He has embarked on reserving natural resources at Pearl gardens beach and planted a commercial forest of 2000 trees in lwengo too District.
Born in August 1962 to Peterolado Mulindwa and Caroline Nakabuye residents of lwengo District; Birimaaso started with six cottages in 2004.
Today, the facility boasts with 50 cottages for accommodation.
"The cottage idea was envisioned from four family cottages and five single cottages," he says before adding that they offer sauna and steam bath and they are in a position of setting up Nalubaale Museum within the facility to boast culture.
The place alone is a destination of nature and free from noise.
According to Mr Birimaaso; there is a lot that needs to be exploited and appeals to the Minister of Tourism,wildlife and antiquitie Tom Butime and Frank Tumwebaze in Agriculture to work with them to reserve the natural resources and tourism in Kalangala District.
Do you have a story in your community or an opinion to share with us: Email us at editorial@watchdoguganda.com