Energy Ministry Permanent secretary has lied about the controversial bosses contracts of well funded Rural Electrification Authority (REA) and other dealings of the agency.
Two weeks back, Mr Robert Kasande, the Ministry of Energy and Mineral Development Permanent Secretary defended the Energy Minister Mary Goretti Kitutu Kimono from allegations that she renewed contracts of two top Rural Electrification Agency (REA) who had been suspended by the board over abuse of office.
Godfrey Werikhe (formerly Deputy Executive Director, Technical Operations at REA) and John Turyagyenda (formerly Head of Construction Department at REA) were last year suspended from the agency after an Inspector General of Government (IGG) report implicated them in fraud and corruption.
On top of the suspension, in December 2020, the duo's contracts got expired and the Ministry of Finance Permanent Secretary, Keith Muhakanizi insisted that Mr Werikhe his colleague Mr Turyagyenda should leave REA due to mismanagement issues raised against the two as well as their contracts had run out.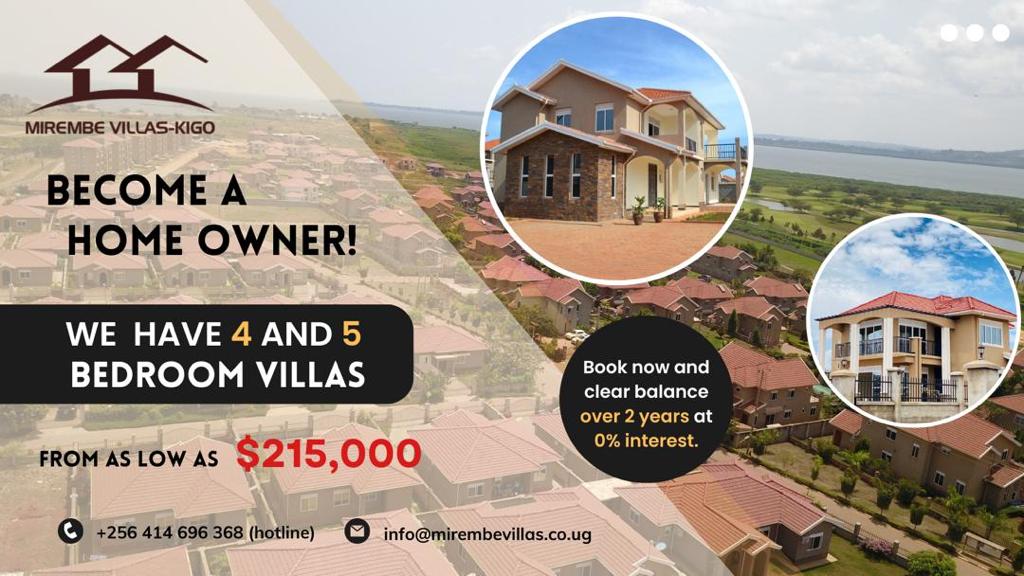 However, a few weeks ago, reports started making rounds on social media asserting that Ms Kimono had renewed the contracts of Werikhe and Turyagyenda amid contention from REA board members.
The allegations forced PS Kasande to issue a statement distancing Kimono from any wrongdoing.
"The public is hereby informed that the Minister of Energy and Mineral Development has not renewed the said contracts…. The cabinet has decided to rationalise government agencies, commissions, authorities and public expenditure. Among the institutions affected by the decision, cabinet directed that Rural Electrification Agency should be mainstreamed as a department under the Ministry of Energy and Mineral development," Mr Kasande said in a press release issued on 16th April, 2021.
"The Ministry is in the process of implementing these cabinet decisions and once the process is completed. All employees including the Head of Department will be recruited by the Public Service Commission in accordance with the Uganda Public Service standing order, 2010," he added.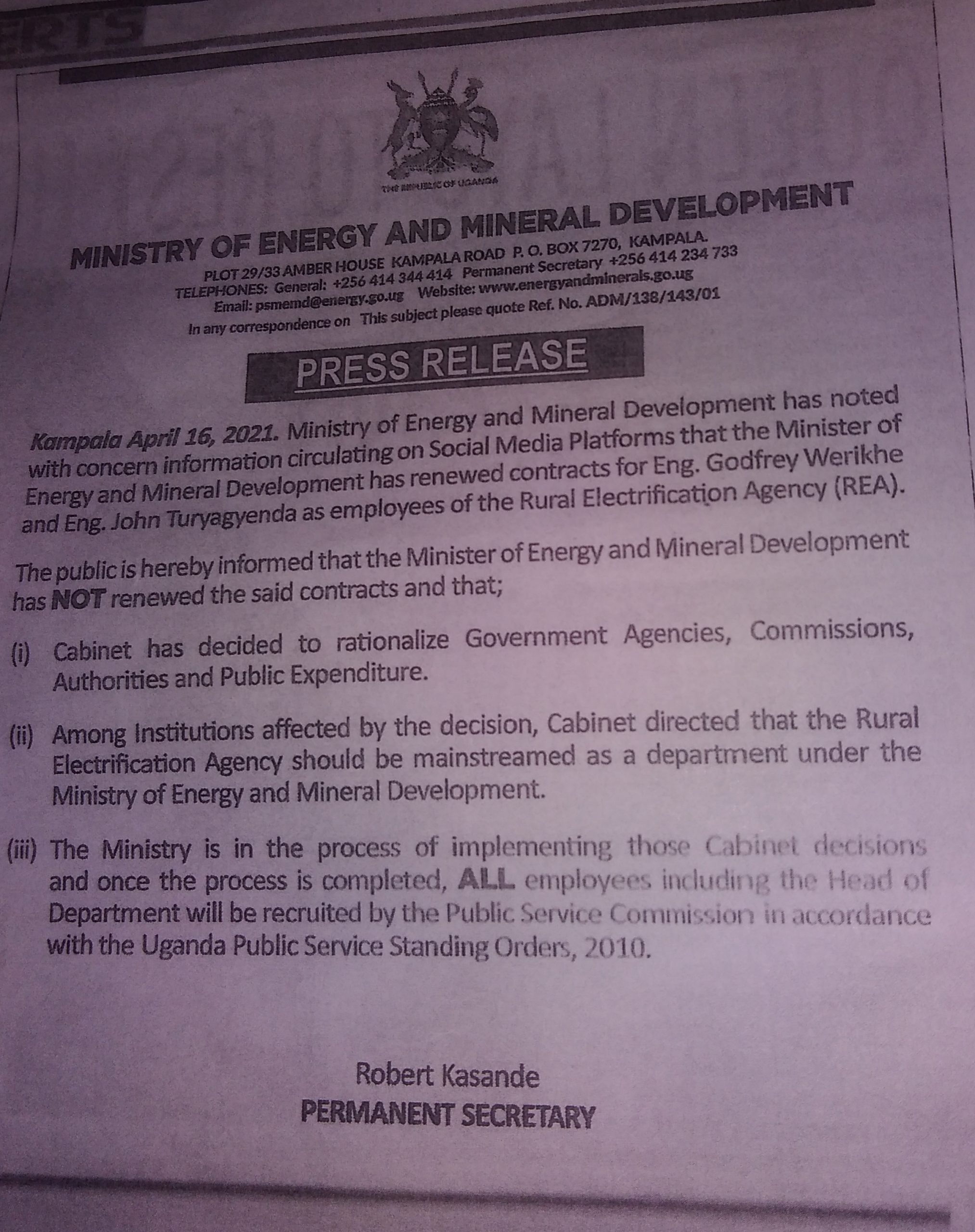 However, what's shocking is that despite the claims that Werikhe and Turyagyenda's contracts have never been renewed by the minister, the duo still receives salaries up to date.
According to REA's payroll which Watchdog has see for March 2021, Werikhe and Turyagyenda were paid UGX16,296,822 and UGX 12,356,386 respectively as net salary, which means they still receive all their full benefits as employees despite a standing suspension and contract expiry.
The salaries of the two were paid in their Standard Chartered Bank accounts 0100110442800 and 0101545432700.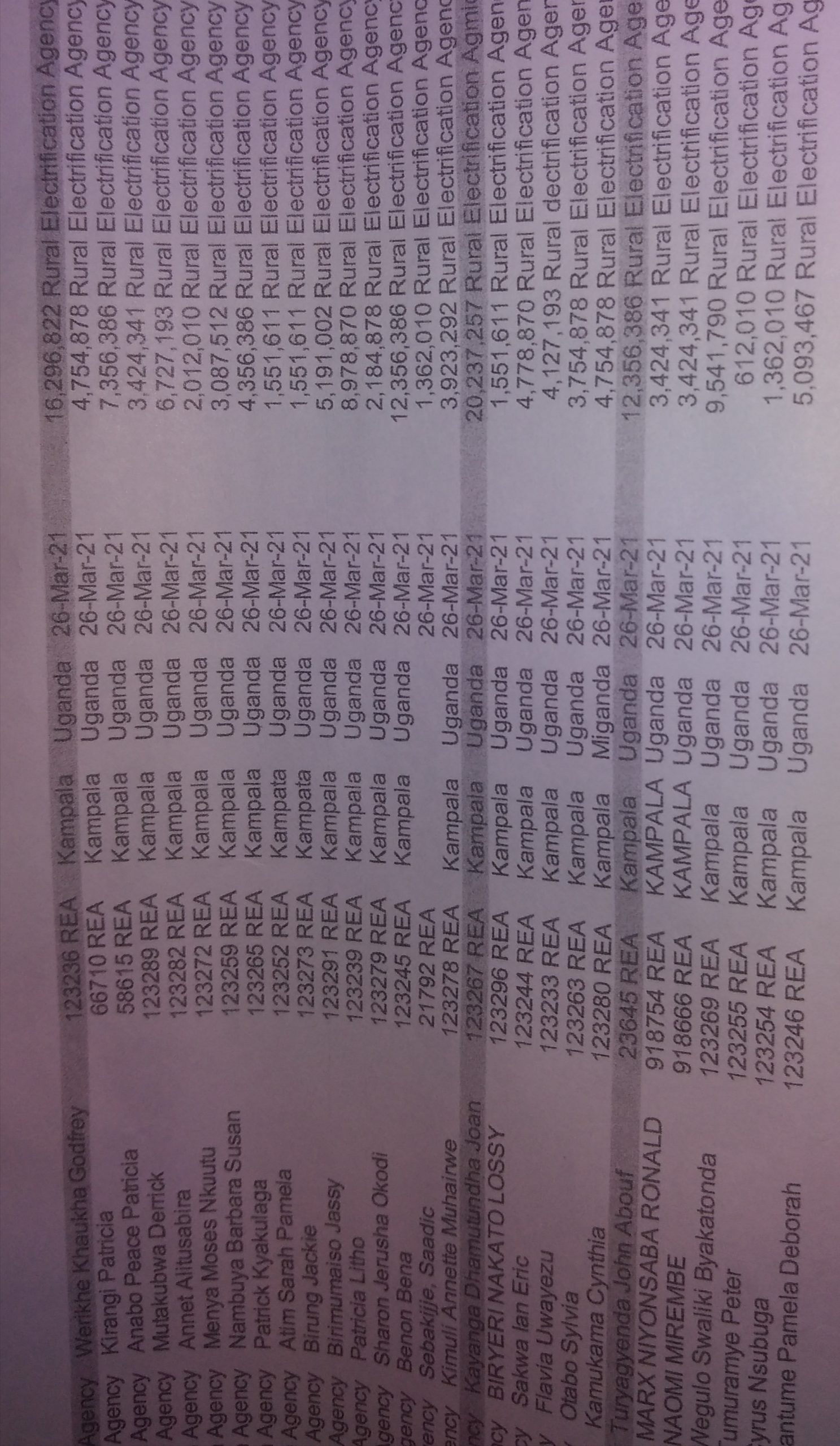 Do you have a story in your community or an opinion to share with us: Email us at editorial@watchdoguganda.com