Dressed in a yellow T-shirt bearing the image of Yoweri Museveni, the NRM national chairman and President, and partially covered by a black fashionable cardigan, Ngompek speaks of his party and President with immeasurable pride.
"I am a Musevenist because I believe and fully understand the National Resistance Movement (NRM) ideology," Linos Ngompek, the Agago District Residence District Commissioner said during a one on one with our reporters at his home in Kiryandongo on Saturday last week.
His allegiance to the ruling party and President Museveni blossomed between 2000 and 2003 while at Makerere University.
Then, the flamboyant 'Yellow Boy' says was a time when Museveni's administration was vigorously tested by the opposition forces from former Kampala Mayor Hajji Nasser Ntege Ssebagala and four time presidential candidate Col Dr Kizza Besigye.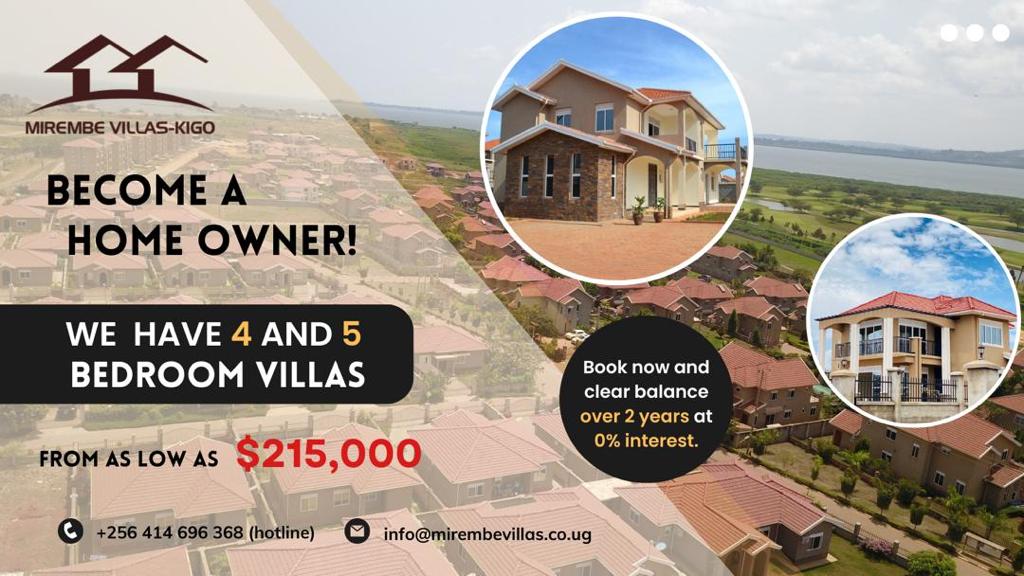 "That period," Ngompek, formerly a taxi driver says, "greatly helped shape my political consciousness. It pushed me to make a choice between change and no change. That's how and when I made a decision to follow the National Resistance Movement (NRM) party because its ideology was more appealing than that of its challengers."
He would know better having risen from grass to grace during the regime.
Born in Pakwach District in 1978, The young Ngompek and his siblings moved to Kiryandongo with their parents in the late 1980s due the insecurity that plagued the region.
Like most not well to do families, Ngompek and his siblings passed through difficult times as a student to make it to the top.
"I went to Bunyoro Catholic School for my primary education before moving to Kampala in 1993 in search of better education standards that would guarantee me a slot in the country's most prestigious Makerere University," he says.
During that time in high school, the mountain ahead of the village boy from Bunyoro was such a huge one due to the high cost of living.
For example, even buying water in Kampala was something alien to him. Regardless of the cost, Ngompek set out to prosper and devised means to sustain himself as well as pay his own fees.
That is when he got a gig as taxi driver from Luzira to the city center after a brief period of helping a friend as a conductor.
"I used to wake up at 4am and transport early morning passengers to town. By 8am, I had to be at school. Sometimes I'd arrive late but did I have an option? Not at all," Ngompek says, adding that the fact that he never wanted the school to know his situation complicated the matter even the more.
During his A' level vacation in 1999, Ngompek became a full time taxi driver sometimes putting in 24 hour shifts every day.
He managed to save enough to pay his tuition at Makerere University where he would go on to graduate with a bachelor's degree in Environmental Conservation Science three years later in 2003.
"That period greatly helped shape my political consciousness," he stressed for the umpteenth time.
After graduation, he took on a couple of jobs, including teaching at Bishop Cyprian Kihangire. But his loyalty to the NRM paid off when he was appointed Masaka District presidential envoy.
While occupying the position, he says, it was an opportunity for him to broadly study and understand the Museveni system.
He eternally established that it was the best solution to the problems faced by Uganda.
He has since represented President Museveni in three districts, moving from Masaka to Kiryandongo, then to Agago District.
Representing the President in his home district of Kiryandongo opened his eyes to the problems faced by the locals, including among others poverty and insecurity.
These are the problems he faced as youngster growing up in Kiryandongo, he says, vowing to uplift the standards of living of his people if elected Member of Parliament for Kibanda North Constituency.
The seat is currently represented by Taban Amin, grandson to former President Al Hajji Iddi Amin Dada.
"I had tried to help the people during my time as area RDC," he says.
The transfer to Agago was a blow to the youthful Musevenist. And although he is willing to serve wherever, Kiryandongo was, is and will always be his home. This is where, he says, his journey started and seeing the prosperity of its people is an assignment he will work towards to the last breath of his life.
Early last year, he announced that he would unseat Taban Amin although he is eligible to stand in Pakwach – where he was born – and Kampala where he spent much time as a youth.
"I grew up here. My childhood friends are here and my parents are here. Even when I die, I will be buried here. There is no home to me like this place," he says.
He asserts that his time as RDC exposed a representation vacuum that urgently needed to be filled.
"Improving education in the area will be among the very first priorities I undertake when I enter Parliament," he says, explaining that the poor education environment in the area is exposed by the high school dropout rates.
Currently, he helps over 50 children at both primary and secondary levels through his Ngompek Foundation.
"Access to quality education will be a recipe for development and improved standards of living in the area," he says.
He also pledges to work with teachers' unions to further map out strategies on how to keep children in schools and ensure good performances.
Ngompek believes that 'Health is wealth'. He has since vowed to use his office as MP to improve health service delivery in the area.
To him, empowering the Village Health Teams (VHTs) will go a long way in achieving a healthy population, which he says will ensure development.
On matters of tribalism and disunity, he promised to initiate a concerted effort, involving elders and other opinion leaders in the area, so as to help keep the people in the area together. He decried public officials who fuel tribal sentiments in the areas, saying that the ethnic diversity in the area should be used to their advantage rather than abusing it.
Once elected, he also plans to put much emphasis on talent development as well as weed out the rampant land wrangles in the region.
Ngompek enjoys support from the youthful voters who see his unrivaled ability to connect with them as rare gift they will risk not lose. His humble character will be another advantage he will reap from the elders who see him as their darling son.
"I am a party cadre who doesn't believe in standing as an independent. All our energies will be focused on winning the primaries because that means everything for now," he noted.
Do you have a story in your community or an opinion to share with us: Email us at editorial@watchdoguganda.com