Finance state minister David Bahati is slowly grooming his son, David Kwera, 16, into a 'man of the people.
Kwera, who was recently in holiday, travelled to Kabale and spent some good time delivering lessons to pupils at the same primary school where his father studied from several years ago.
Kwera later wrote about his experience in the village which we bring to you below:
After my International General Certificate of Secondary Education (O'Level) examinations, I wondered what I would do during the long break. My options were either to do something productive with my time or stay home, relax and watch all the latest shows I had missed during school time.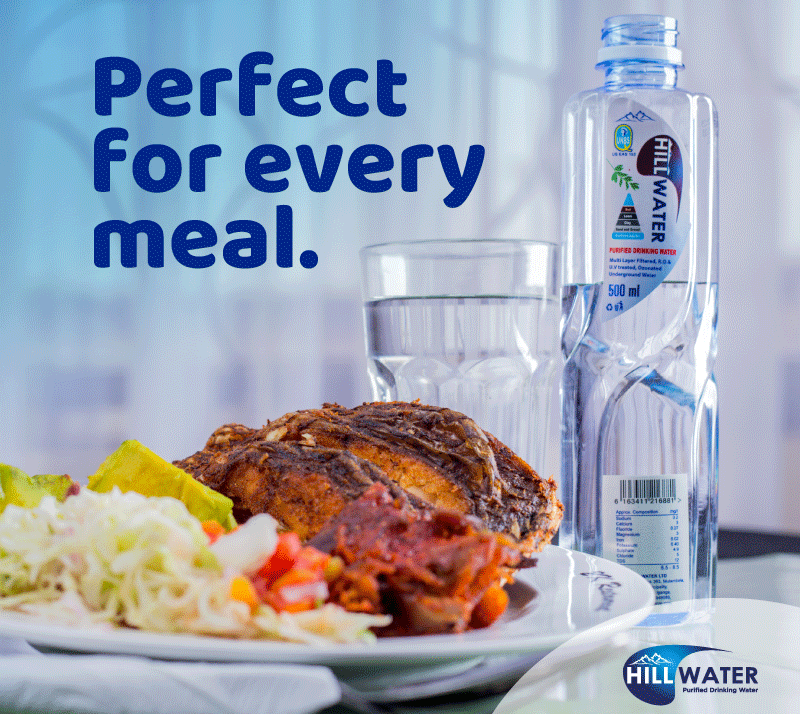 What I had in mind was serving the community or practising basketball in order to enhance my skills. However, I thought serving the community would be more interesting because I would be out of my comfort zone and I would be serving the people at the grassroots.
My destination would be Kabale district. I had not been there in a while. The last time I was there was during Christmas holidays, when all my relatives, young and old, gathered for a memorable time.
I still have vivid memories of that Christmas holiday. That is the good thing about Kabale, when you go there you will never forget the experience. I also wanted to visit my home area so that I could escape the  heat and chaos in Kampala. The weather in Kabale is cool and the atmosphere is calm. You could basically describe Kabale as paradise. Indeed, that is why most people describe it as the 'Switzerland of Uganda' because of its oddly cold weather.
And if I were to trave to Kabale, then Kakomo Primary School, a Church-founded school located in Kitumba sub-county, was the one place I had to visit. It is the same school where my father received his primary education. I had earlier been told that he walked barefoot daily to this school, eventually passing with a first grade.
So I wanted to see the place that brought up the man I see today. I had so many questions about the school. But the questions were going to be based on my dad. For example, what was his favorite sport? What were his likes and what did he what to be while in Primary Seven?
When I told him I wanted to volunteer there, he was surprised and then angry. Surprised because he was trying to secure for me an internship at one of the top telecom companies but I felt the offer was not for me because it seemed basic. I never wanted to spend half of my holiday collecting money from clients. I wanted to do much more.
Angry because he felt his proposal was better than what I was proposing would help me.
But how would it help me yet I wanted to do something memorable during the holiday?  I wanted to do something I would not forget in my life time and the telecom was not the best place to facilitate my dream.
I told him that I wanted to teach English language at Kakomo, especially in Primary Five. I wanted to start small and bring something new to this class.
Journey to Kabale
After a lot of convincing, my father and mother gave me their blessings and I started off my journey to Kabale on that eventful Wednesday.
I travelled with Uncle Michael and my sister, Abigail.
As we were approaching our village home after almost five hours, we heard children chanting my father's name… "Bahati, Bahati, Bahati, Honourable…"
Uncle Michael tapped me on the shoulder and said: "Do you know why they are singing your father's praises? It's because your dad is loved because of the many things he does for these people."
It was unbelievable.
We reached our home in Kakomo village safely. We had our dinner and rested as we were really tired.
Although I was still tired from the previous day's journey, I had to gather the courage to face the new day. After a cold bath, I felt refreshed. Breakfast was served as I was joined by Uncle Wilber, one of the many people who mobilise the community for my dad and who was going to guide me while in Kabale.
He is such an organised man who strives as much as possible to ensure that I make and keep my appointments and schedules. We developed a programme and then drove to Kakomo Primary School.
And because we had kept time, we found the pupils in queues ready for the assembly. They donned red sweaters on top of green dresses and shirts. The boys' uniform was made complete by brown shorts. The teachers, including the headteacher who warmly welcomed me, faced the learners children. I took my place next to the headmaster who introduced me to everyone else.
Some of the boys looked a bit old for primary school. I was to be informed that for a number of reasons, class repetition and dropout was high in Kabale district, just like other rural areas in Uganda. Indeed, later I found out that in the Primary Five class I was teaching, one pupil was my age mate – 16 years. She is a smart girl with a lot of hidden potential.
When the headmaster gave me the platform to speak, I tried as much as possible to compose myself.
"Hey, my name is David Kwera. I'm very excited to be here. I would like to take a chance to share in experience here at school. I would like you to think about people who came from this school, who were in the same situation as you are, and made it to the top. One such person is my father, Hon David Bahati. He was in the exact situation you are in and look at him now! I am sure you will also make it in life."
I looked at the children's faces and they all looked confused. I realised that the message was either too complicated for their understanding or they were overwhelmed. I took a step back and the headteacher translated everything I said into Rukiga.
After that, the head teacher said: "As you can see, he speaks like the white men."
This remark was quite funny because of my accent. I always tell myself that I do not have an accent but most people say I do.  I really don't know why. After the assembly, the pupils went to their classrooms in an orderly fashion. Most of them had their eyes fixed on me.
Meanwhile, Uncle Wilber and I walked to the staffroom. It was not the typical staffroom I normally saw at my school, it was small and crowded. I imagined it was the same staffroom that existed when my dad was still a pupil at the school. I thought all the school buildings for that matter, were the same when my dad was there. The head teacher's office was a partition within the staffroom.
When we requested to enter his office, he was still polite and welcoming, the same way he greeted us during the assembly. His office was very humble. It wasn't the typical headmaster's office that we often see and fancy about. The office was so small. It couldn't hold a meeting with six people.
But what could I do? I was here to participate in teaching the pupils, not to change the school. The sight of the office, the school and pupils, provoked me into deep thought. Whether I was going to be a spectator of what is around me, or participate in changing the community for the better.
Later, the teachers directed me to the class I had chosen to teach. To describe it in a few words, it was a homely and wonderful class. The moment I entered the class, the pupils stood up and in unison, chanted: "Welcome to P5 class!" I greeted them and they all took their seats. It was really polite of them although at first it seemed funny because I don't normally see that.
The class was a mixed scenario. I could see pupils who were too old to be in a Primary Five class while the others were just the right age. There was a teacher in class. I told them I would first sit at the back of the classroom and observe but the teacher probably did not understand me.
She just handed me a piece of chalk. The pupils, one-by-one stood up to introduce themselves. I also introduced myself and wrote my name on the board.  Of course it was going to be hard for me to recall all their names.
We had to play a game which acted as an ice breaker. The game involved each pupil asking their neighbour what they like and enjoy most. At first the pupils never got this game. One of the teachers, later told me that the delay to get the interactive game was due to the fact that the pupils were not used to such situations.
For the pupils it was always listening to the teacher and that was all. I did not like this narrative. Before I came to Kabale, my target was achieving something memorable and not unforgettable.
As the days passed, the pupils started catching up with me. I could tell from their expressions that they were having fun. I was like their equal now, but at the same time, I got their respect. We could all have fun in our lessons.
All we could do was laugh and learn. During my lessons (I would teach up to 4:00pm), pupils from other classes would peep through the windows to see what I was doing. I loved the attention. I was shifting from a teacher to some sort of a motivational speaker.
Visiting relatives
I got time to visit all my relatives because I never knew them well and how they impacted my father's life.
The first relative I visited was Uncle Milton. I already knew him and his children. I relate well with all of his three children. They surely give me company whenever I am in the village, especially the elder one Thaddeus who tells us stories about Kabale, the places and their meanings.
Uncle Milton is my father's elder brother. My father is the second-last born in a family of five. Uncle Milton has vivid descriptions and stories about my father's past, the same situation with all of his other relatives.
But there was one relative who I became very fond of – Kaka Joy. I still remember her name because of what she did for me and for all the joy she brought to the visit. She also has vivid descriptions of my dad's past. I related with her much more because she could speak English and Rukiga and she would understand me at times because of my "accent".
Kaka Joy would tell me stories in Rukiga but I couldn't understand because I am still struggling to learn Rukiga. It is sad because most children of this generation do not know their mother language and, sadly, don't know their roots well.  I want to learn Rukiga just to understand the stories Kaka Joy will tell me if I meet her again and for the hospitality she showed me.
My dad's forehead scar
She was the one who offered to take me down the steep hills to the protected spring, where my father used to fetch water during his childhood and eventually got the scar that is on his forehead.
My dad had earlier told me that he got the scar on his forehead when he accidentally slid and fell at the same spot. It was emotional to see that very water well where my dad got the scar from.
As I walked down the very steep hill, I would imagine my father's physique at a young age because walking down the hill to the well and back was a real struggle for me. I saw the protected spring and it was beautiful. It looked like a hidden peaceful small garden. This well was a true summary of my dad's life.
The other person I got much information from, was my grandfather, Ezra. He had all the answers I had craved for. Grandpa Ezra, a respectable man, lives in Kabale town. He is a retired civil servant who knows English and can speak it fluently because of the background he was raised in and the education he received.
Grandpa Ezra is the same person who encouraged my father to stop the business of selling cigarettes and bananas as a way of raising fees at a young age. Later when my dad ventured into politics, he is one of the persons who helped to mobilise votes when he first contested for Member of Parliament way back in 2006.
With the thoughtful words of Richard Linktaer the only way to describe this journey is that, "Everybody just wants to appreciate time as its passing to be in the moment. It's the hardest thing to do. You're either in the unknown future that you're working toward, or you're in the past that becomes a little abstract".
If I would put it in my own words, time neither moves fast nor slow. The different perceptions are wrong. In my opinion, time moves at a pace one wants it to move. Therefore, I would like to change the way time has moved in terms of development at this school. The pupils do not have sports uniform and some of them don't know what football boots look like. I am planning to have a fundraising event in Kampala to raise funds so that the pupils could acquire sports kits.
To the minister of education and sports, I would like to leave a thoughtful question, why do you focus more on urban education than rural areas?
Do you have a story in your community or an opinion to share with us: Email us at editorial@watchdoguganda.com