Members of the National Resistance Movement(NRM) Yellow Brigade on Sunday 19 converged at Crested Towers, Nakasero for the scientific celebration of General Yoweri Kaguta Museveni's belated birthday.
Museveni clocked 77 years last week, Wednesday, 15, a milestone that was widely celebrated among the party faithful.
Jacklyn Kankunda, the YB Secretary-General explained the reason for the delayed celebrations. She said they opted to push it ahead because being a weekday, some members would be prevented from attending due to their busy work schedules.
"Besides, there have been many celebration parties around the country and some members would not be available had we organised it midweek," she explained.
She further explained that despite the considerably larger membership of the brigade, only a few had been invited in respect of the presidential directives on mass gatherings aimed at scaling down coronavirus transmissions.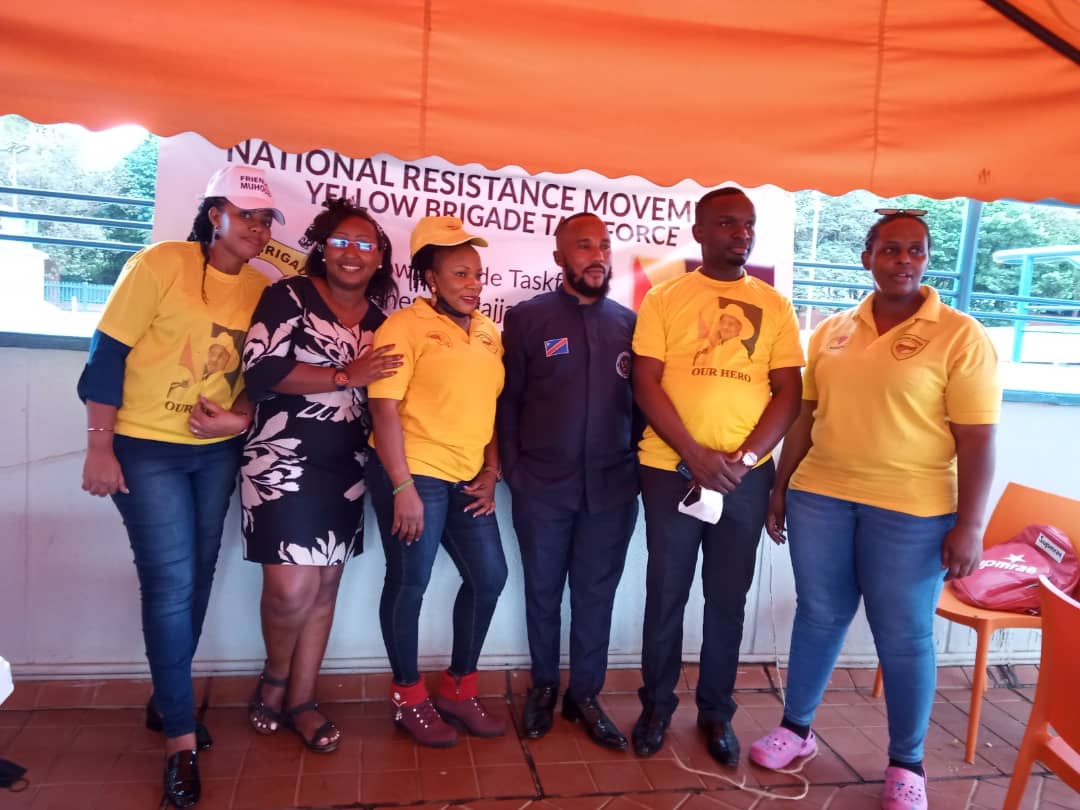 Anguiza Merjeed Moto, the Chairperson of the Brigade appealed to members to always emulate the sacrifices Museveni has given in service of Uganda for the last nearly 50 years. He also cautioned members to take up responsibilities that will keep the NRM revolution afloat even after the current Chairman, and his palls who went to the bush are no more.
He reminded Brigade members that the electioneering period is now gone and that it's now time to work about the President's commitment to secure g the future. On this, he rallied the public to decidedly embrace government programs aimed at social-economic transformation, such as Emyooga and the Parish Development Model.
In attendance also were two refugees – Wisdom Kasongo and Vanessa Ngoy, from prominent political families in the Democratic Republic of Congo. They have been in the country for over a decade due to the political strife in the crisis gripped French-speaking country.
The two hailed Museveni for ensuring stability in the country and promoting g Uganda as a haven for refugees from all over the continent.
Timat Ann Grace- the YB Coordinator for Karamoja referred to Museveni as a rare breed of a leader who ought to e emulated by all Ugandans who are the direct beneficiaries of his sacrifice.
She specifically pointed out her native Karamoja, Teso, and North of the country which had been a herb for political strife before Museveni's militaristic intervention. On the Karamoja disarmament exercise specifically, Timat heaped praise on the commander in chief that this could lead to lasting peace in the region in the long run.
The yellow Brigade Task Force was formed in 2010 to counter anti-government propaganda and mobilise for the party ahead of the 2011 general election.
Following Museveni's victory, the group would maintain its presence through various mobilisations towards specific projects in the interests of the public.
According to the group's Chief Publicist, Pretty Sharon, the leadership is working on several non-political strategies that will keep the group vibrant throughout the period before the next general elections.
Do you have a story in your community or an opinion to share with us: Email us at editorial@watchdoguganda.com