Some of us are no surprised that the famous Katonga bridge (around which the NRA rebels led by Yoweri Museveni routed the UNLA forces to march on and take Kampala in 1986) caved in when it did, effectively cutting off the Western part of East Africa from the East. The inconvenience and cost of this disruption in connectivity of the two ends will be told and felt for many years to come.
This disaster came as heavy rains pounded many parts of the country, sending water levels over the roof. In most places, not only Central (Masaka area) where Katonga is located, rains have been heavy and continuous; they have caused great damage, submerging homesteads, farmlands, public buildings and infrastructure, with devastating effects. Before Katonga, we had seen roads washed away in the Kigezi area due to the steep gradients giving way uncontrollably. Unfortunately, lives were also lost and in quantifying the economic damage of such occurrences, there is no value we can attach to loss of life. May the victims rest in eternal peace as the living wake up to the reality of the state of our planet!
I had a field visit in Luzinga, Luuka. Residents were displaced from their homes by flood water. There are now fears of famine now that their gardens have been washed away, on top of diseases that arise from stagnant water and soggy conditions.
In 2020, Uganda experienced a spate of heavy rains that sent the waters of lake Victoria soaring to an extent of shifting small islands towards the electricity dams at Jinja. If it were not for the UPDF engineering brigade, the debris would have clogged the dam and destroyed the electricity generating infrastructure with devastating consequences on the economy.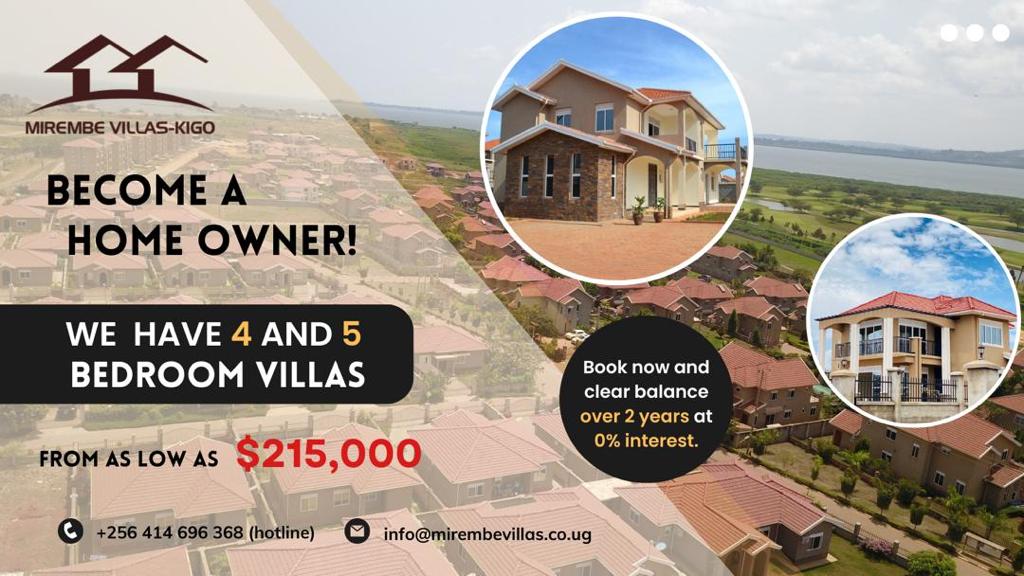 Last years, tens of people were killed when floods invaded Mbale City, leaving families in the districts of Mbale, Namisindwa, Buikwe, Kalangala, Butambala, Lwengo, Kisoro and Kyegegwa distraught and the nation in mourning. President Yoweri Museveni was at hand to extend his condolences through the Minister for the Presidency, Hon. Babirye Milly Babalanda.
Nevertheless, those people did not have to die, because these disasters, though ordinarily acts of nature, are increasingly a consequence of man's abuse and misuse of the natural environment. It's a cycle and each time, I predict, it will get worse unless we take decisive action.
People have ignored the H.E the President's emphasised call on preserving the natural environment and stopping degradation of wetlands. The President has severally issued directives and guidelines, requiring the public to get out of wetlands. Resident District Commissioners (RDCs) have standing orders to clear out encroachers but some of the encroachers are adamant, playing all kinds of tricks, including running back to the wetlands when the enforcers have left the place. To them, it's business as usual whereas not.
Even during election campaigns when candidates are expected to endear themselves to the masses, the President has not shied away from directing all those heaping soil in wetlands to reclaim them, those building on lake shores, cultivating river banks and decimating forested zones to desist from the practices. Many local leaders have not been of help as they fear to annoy voters by pushing them out of these precious zones.
Infact, it is in such times that we can tell who the true leaders; those who stand on truths even when it's bitter. Museveni learnt this approach from the legendary Mwalimu Julius Nyerere, former President of Tanzania, who asked the people to grow enough food. When they refused, he loaded them on trucks and sent them to shambas by force. At harvest, that's when they remembered to appreciate him. Perhaps, Ugandans want President Museveni to take that route!
Government has put in place measures to provide alternative livelihoods to encroachers but it seems to them that's not enough. They will toy with nature until it answers back in its own way!
People have not heeded H.E the President's advice on the issue of protecting the environment. Environmental degradation is a surging threat; a security threat and a crime against humanity. We cannot afford to lose more lives under avoidable circumstances and make economic losses as what we are experiencing with Katonga's collapse. That whole corridor is now deprived of travellers who have, since time immemorial, supported its economy. Yet, Katonga is only one spot; there are other spots scattered countrywide where small roads and bridges have been broken and communities are stranded.
Nature is angry with us. If we are not careful, nobody is safe! Even those who think that they are benefitting by encroaching on wetlands are finding themselves losing their entire investment if not their lives. It's not worth it going against the dictates of sustainable environmental use and conservation.
Yet again, this is a bipartisan issue, affecting all regardless of political thinking. We all rely on nature and it is our collective responsibility to do something about it while we still can. The cost of anyone damaging our natural environment should be made very high that anybody engaging in it will be considered an enemy of society at large, in the league of armed adversaries. In reality, causing environmental damage that destroys lives and upsets communal infrastructure and existence is high crime. Even the laws need to be revise in light of the consequences of being comparatively soft on transgressors. We must resist them the way NRA resisted Lutwa's forces at Katonga. It's a reminder to apply revolutionary methods to overcome contemporary enemies and dangers.
I appeal to all actors to join President Museveni in safeguarding delicate natural environments that also regulate our climate, making it possible to live comfortably. Failure to do that, we are all doomed! All illegal developments in wetlands must stop and those already there cleared out; the school curriculum should have studies on environmental protection, clerics should preach loudly, civil society should sound its drums more. Whoever will not hear will have themselves to blame.
The author is the Deputy Presidential Press Secretary
Do you have a story in your community or an opinion to share with us: Email us at editorial@watchdoguganda.com