The Vice Chancellor of Victoria University, Dr. Lawrence Muganga, has announced that the university is on the brink of introducing pioneering technology-centered programs aimed at augmenting adaptive and hands-on learning experiences for its students.
These, he stated, encompass programs in Artificial Intelligence (AI), Web3 Technology, and Metaverse Technology, all of which will be executed with steadfast backing from industry titans such as Google, Microsoft, and Next Trade.
Dr. Muganga unveiled this revelation in his address at the inauguration of the 4th University 15-Member Council, held in the main auditorium on November 4th, 2023. His speech painted a vivid tapestry of the institution's remarkable journey and ambitious future.
"So very soon Mr. Chancellor, you will see us launching amazing programs in Artificial Intelligence, in Web3 Technology in Metaverse Technology, thanks to Google, Microsoft, Next Trade that have believed in us and they want to make us the center of Artificial Intelligence and Web3 Technology in Uganda and Africa. I don't know why they chose us, but they are coming," Prof Muganga revealed.
The Vice Chancellor chronicled the institution's exponential growth, from a modest 181 students in 2017 to a staggering 6000 in 2023—a phenomenal 2,357% increase in just three years. This extraordinary surge, he attributed, was a testament to the collective efforts and the unwavering trust that students have placed in Victoria University.
Beyond the numbers, Dr. Muganga highlighted the university's pioneering initiatives. These include the Career Readiness and Employability (CRE) Programme, a cornerstone of their academic framework which ensures that every graduate leaves not only well-versed in their field but also equipped with practical skills for the global professional arena. The introduction of VU CLASS, an advanced Learning Management System, further solidifies their commitment to digital learning.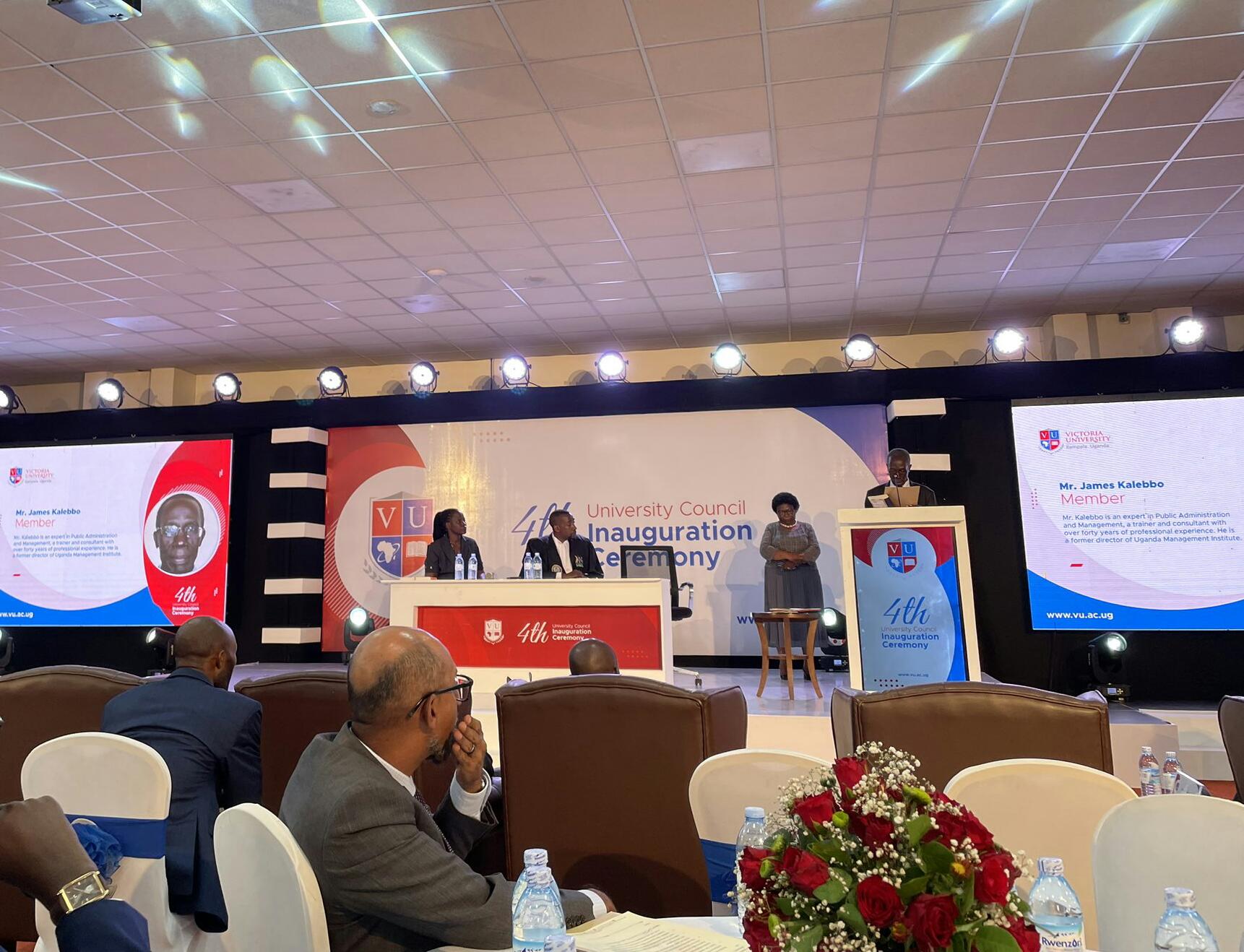 The Vice Chancellor also revealed international collaborations that have opened doors for graduates in Germany and the UK, particularly in fields like IT, Hospitality, Nursing, and Midwifery.
 He acknowledged that the journey was not without its challenges, including limited support and collaboration from certain quarters, and pending approvals from the National Council for Higher Education.
Yet, amidst these challenges, Dr. Muganga's announcement of prime land allocation in the heart of Kampala for a new campus was met with resounding applause. This monumental gesture, he affirmed, symbolized not just a new location, but the university's growth, stability, and future aspirations.
Looking ahead, Dr. Muganga painted an audacious vision. By 2026, he said, they aim to house a thriving community of 20,000 students and transform Victoria University into a global beacon of academic excellence. 
He implored the newly inaugurated members of the 4th University Council to steer this ambitious ship with wisdom, creativity, and a forward-thinking mindset.
The Chancellor for Victoria University, John Opuda-Asibo, addressed the new university council members, urging them to contribute effectively to the foundation of the institution. 
He emphasized the need for each council member to bring their unique capacities and expertise, distinguishing themselves in a way that contributes to the dynamic functioning of the council.
 Chancellor Opuda-Asibo stressed the importance of realistic efforts in building the necessary groundwork for the council's success.
"May I also request each member of the council to wholeheartedly invest their efforts in establishing the foundation we require. Consider what unique contributions you can bring to the council. It is imperative that you bring forth capacities and expertise that set you apart, ones that others may not possess," remarked the Chancellor.
Upholding Corporate Governance: Insights from Leo Kibirango's Keynote Address
Leo Kibirango, who served as Governor Bank of Uganda from 1981 to 1986 was the keynote speaker at the inauguration of the new university council. He emphasized the importance of promoting corporate values for organizational excellence. He referred to this as a 'value basis definition', highlighting the values of transparency, accountability, fairness, and responsibility. 
Kibirango stressed that corporate governance holds increasing global significance, providing the foundation for organizational structure, decision-making, and resource allocation. He emphasized that successful performance hinges on this practice, ensuring stability and sustainability for the organization.
"As a foundation for promoting corporate values—referred to as a 'value basis definition'—the principles of transparency, accountability, fairness, and responsibility stand prominently, successful performance is anchored on this practice and this will deliver stability and sustainability to the organization," he said. 
Furthermore, Kibirango underscored the pivotal role of ethical leadership and corporate citizenship within an organization. In the context of running a university, he emphasized the paramount importance of stakeholder inclusivity and values of integrity, objectivity, accountability, openness, and honesty, advocating for their incorporation as best practices.
List of the 4th University Council Members 
Mr. Joram Francis Kehenano…………………….Chairperson 

Dr. Biribonwa N. Joseph……………………………Vice Chairperson

Assoc. Prof.Consolata Kabonesa……………….Member 

Mr. Andrew Mujuni Mwenda……………………..Member

Mr. Rajiv Ruparelia……………………………………..Member

Mr. James Kalebbo………………………………..Member

Mr. Jay Sakaria………………………………………Member

Dr. Mary Kanyiginya Tizikara………………………Member

Mr. Sameer Thakkar………………………………….Member

Mr.  Rashid Ssemambo……………………………Member

H.E. Carter Jorine Karyn…………………………..Member/Guild President 

Ms. Amanya Barbara Lynn……………………….Member/Academic Staff representative 

Ms. Ampaire Juliet…………………………………..Member/Academeic Staff representative 

Prof Lawrence Muganga…………………………….Member/Vice Chancellor 

Mrs. M. G. Katusabe-Ssemwezi…………………Ex-officio, Member/University Secretary 
Do you have a story in your community or an opinion to share with us: Email us at editorial@watchdoguganda.com